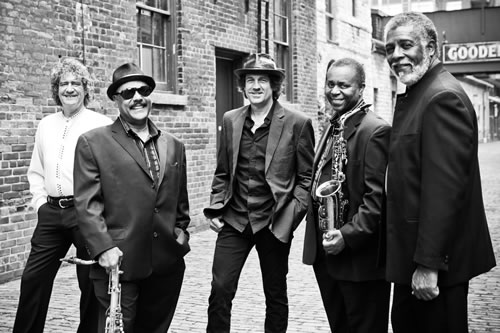 In 2006 LMT joined forces with the world famous Chops Horns to record their "Color Me Funky" CD/DVD in Germany. The album was an international success and led to LMT's European "Soul Circus" tour uniting these two dynamic groups live on stage.
Please contact us for shows and touring opportunities with LMT Connection featuring the Chops Horns!
Chops Horns Bio:
In musical lingo, to have great chops means you're a great player. Most appropriately, the horn section known as CHOPS are indeed among the greatest players in the world. CHOPS HORNS started out doing recording sessions for a series of Gospel and R&B artists which led to a lengthy stint with the historic rap label, SUGARHILL RECORDS. Next they served as the horn section for THE POLICE's "Ghost In The Machine - World Tour", worked on THE ROLLING STONES' "Undercover", BOB DYLAN's "Empire Burlesque", PUBLIC ENEMY's "Muse Sick-N-Hour Mess Age", CHRISTINA AGUILERA's "Stripped", ALICIA KEY's "Diary Of Alicia Keys", "Unplugged" and "As I AM", MARIAH CAREY's "Emancipation Of Mimi" and on the soundtrack of the movie "Glory Road".
Chops Horns Discography
Parliament-"Funkentelechy vs. the Placebo Syndrome"-1977**
Quazar-"Quazar"-1978
Mutiny-"Mutiny on the Mamaship" -1979
Mutiny- "Funk Plus the One" -1980
Parliament-"Trombipulation" -1980
The Sugarhill Gang- "The Sugarhill Gang" -1980
The Sugarhill Gang- "Hot Hot Summer Day" -1980
Sequence- "And You Know That" -1980
Grandmaster Flash & The Furious 5- "Freedom" -1980
Spoonie Gee meets The Sequence- "Monster Jam" -1980
The O'Jays-"My Favorite Person" -1980
The Moments- "Baby Let's Rap Now" -1980
The Sequence- "Sugarhill Presents The Sequence" -1980
The Sugarhill Gang- "8th Wonder"- 1980
Funky 4 + 1- "That's The Joint" -1981
Grandmaster Flash & The Furious 5- "The Birthday Party" -1981
Wayne & Charlie (The Rapping Dummy)- "Check It Out" -1981
The Furious 5 meets The Sugarhill Gang- "Showdown" -1981
West Street Mob- "Let's Dance (Make Your Body Move)" -1981
The Sugarhill Gang- "Apache" -1981
Crash Crew- "On The Radio" -1981
Grandmaster Flash & The Furious 5- "It's Nasty" -1982
West Street Mob- "Sing A Simple Song" -1982
The Sugarhill Gang- "Funk Box" -1982
Crash Crew- "Scratching" -1982
West Street Mob- "Ooh Baby" -1982
The Sequence- "The Sequence" -1982
The Sequence- "Here Comes The Bride" -1982
West Street Mob - "Breakdance: Electric Boogie" -1983
The Sugarhill Gang- "The Word Is Out" -1983
The Sugarhill Gang- "Kickin' It Live From 9 to 5" -1983
Kevie Kev- "All Night Long (Waterbed)" -1983
Patti Labelle-"I'm In Love Again"-1984*
Various Artists- "Beat Street Soundtrack" Movie Soundtrack 1984*
Yellowman- "King Yellowman" -1984
Parliament- "Greatest Hits (The Bomb)" -1984
The Rolling Stones-"Undercover of the Night"-1984**
Chops-"Chops"-1984
Mick Jagger-"She's The Boss"-1985**
Bob Dylan-"Empire Burlesque"-1985
The Rolling Stones-"Dirty Work"-1986**
Grandmaster Flash and the Furious Five- "Greatest Hits" -1989
Millie Jackson-"Young Man Older Woman"-1991
James Brown- "Star Time" -1991
Parliament-"Tear the Roof Off 1974-1980"-1993
Public Enemy-"Muse Sick N Hour Mess Age"-1994*
Parliament Funkadelic-"Greatest Hits Live 1972-1993"-1994
Grandmaster Flash- "Message from Beat Street: The Best of Grandmaster Flash"-1994
Parliament-"The Casablanca Records Story"-1994
Various Artists-"The Best of Sugar Hill"-1995
Parliament-"The Best of Parliament: Give Up The Funk"-1995*
George Clinton-"P Is The Funk - Family Series Vol. 2"-1996
The Sugarhill Gang- "Best of Sugarhill Gang"-1996
The Sequence- "Best of Sequence"-1996
Grandmaster Flash -"Best of Grandmaster Flash, Vol.2"-1996
Joe Kurasz-"Elements of Style"-1997
Various Artist-"Love Jones Soundtrack"- Movie Soundtrack-1997*
Holland Tunnel Project-"What Hip Hop Left Behind"-1997
Various Artists-"The Sugar Hill Records Story"-1997
Holland Tunnel Project-"Stop N Listen"-1998
Dennis Christy-"I'm Alive (But I'm Not Livin')"-1998
The O'Jays-"The Year 2000/My Favorite Person"-1999
Parliament-"12 Inch Collection and More"-1999
The Sugarhill Gang & Grandmaster Flash and the Furious Five- "Showdown: Sugarhill Gang vs. Grandmaster Flash"-1999
Michael D.-"Things That Matter"-1999
Holland Tunnel Project-"Smooth Blend Of Jazz"-1999
Parliament-"20th Century Masters - The Millennium Collection: The Best of Parliament"-2000
Parliament-"Get Funked Up"-2000
Mutiny-"How's Your Loose Booty?"-2000
Phil Asher-"Jazz In The House: The Fall Collection"-2000
Various Artists-"Best Of Distance 1995-2000"-2000
Phil Asher-"Jazz In The House Vol. 3"-2001
Parliament and Ohio Players-"Winning Combinations"-2001
Alicia Keys-"How Come You Don't Call Me - Import Remix"-2002
India.Arie-"Voyage To India"-2002*
Parliament-"Funked Up: The Very Best Of Parliament"-2002
Christina Aguilera-"Stripped"-2002****
Funk To The Max-"For Promotion Only"-2002
Blaze-"Spiritually Speaking"-2002
C.J. Mackintosh-"Trust The DJ: CJ01"-2003
Ray, Goodman & Brown-"A Moment With Friends"-2003
Alicia Keys-"The Diary Of Alicia Keys (Bonus DVD)"-2003****
George Clinton-"Six Degrees of P-Funk: The Best of George Clinton & His Funky Family"-2003
Lil Willie & The Keynotes-"It's Good To Be Back"-2003
Various Artists-"Bobby & Steve: The Anniversary Collection, 1984-2004: Past, Present, Future"-2004
Alicia Keys-"The Diary Of Alicia Keys (Import)"-2004****
The Blind Boys of Alabama-"I'm a Soldier in the Army of the Lord"-2004
Various Artists-"Grammy Nominees 2005"-2005*
Mariah Carey-"Emancipation Of Mimi"-2005**
Chops Horns-"Blowout"-2005
Keyshia Cole-"The Way It Is"-2005*
Parliament-"Gold"-2005
Alicia Keys-"Unplugged"-2005*
Various Artists-"African Plays On"-2006
LMT Connection - "Color Me Funky" 2007
Alicia Keys-"As I Am"-2007**
Bernie Worrell-"Improvisczario"-2007
Baby Elephant-"Turn My Teeth Up"-2007
* Certified Gold
* Certified Platinum
Performances
2009 Dreamgirls at The Apollo Theatre
2009 Annual Black Ball - Keep A Child Alive Event with Alicia Keys
2008 BET Music Awards Show featuring Stevie Wonder & Jill Scott
2007 Gloria Gaynor at The Westbury Music Fair
2007 Live Earth Concert at Giants Stadium with Alicia Keys
2006 Katie Couric Foundation "Motown Meets Hollywood"
2005 MTV Unplugged with Alicia Keys
2005 Live 8 Concert in Philadelphia with Alicia Keys
2005 Apollo Theatre Spring Tribute
2005 Horn Clinic at The Braden School Of The Performing Arts
2005 Horn Clinic at The Circle at City Center in Manhattan
2004 Fashion Rocks At Radio City with Alicia Keys
2004 TJ Martell Foundation honoring Stevie Wonder
2004 NABOB Awards Show honoring Patti LaBelle
2004 Showtime At The Apollo featuring Teena Marie
2003 ABC's Good Morning America Concert Series with Monica
2003 Rhythm and Blues Foundation Awards Show
2002 Tribute to Dionne Warwick at City College
2002 MTV Aids Awareness Show performance with Alicia Keys
2002 Grammy Awards Show performance with Alicia Keys
2002 Soul Train Awards Show performance with Alicia Keys
2002 David Letterman Show with Alicia Keys
Performanced With
John Mayer
Chris Martin of Coldplay
Emma Deigman
Nile Rodgers
John Legend
Little Richard
Vanessa Williams
Elvis Costello
James Taylor
Martina McBride
Big & Rich
BeBe Winans
Gerald Levert
Boys II Men
Al Jareau
Chaka Khan
Stephanie Mills
Bonnie Raitt
Isaac Hayes
Ashford and Simpson
Ray Chew and The Crew (Showtime At The Apollo house band)
The Sugar Hill Gang
Grandmaster Flash and the Furious Five
Parliament-Funkadelic
Harold Melvin and the Blue Notes
McFadden & Whitehead
The Williams Brothers
The Five Blind Boys
James Cleveland
The Jones Girls
Patti Labelle
The O'Jays
Bob Dylan
The Police
Major Tours and Road Shows
Alicia Keys As I Am Tour- 2008
LMT Connection Featuring CHOPS Horns European Tour- 2005
P-Funk Nation Celebration Tour- 2005
Alicia Keys Diary Tour- 2005
Alicia Keys European Tour- 2004
Verizon Ladies First Tour- 2004
Featuring Beyonce, Alicia Keys, Missy Elloit and Tamia
Alicia Keys European Tour- 2002
Alicia Keys Summer Tour- 2002
Alicia Keys Solo Tour- 2002
Lionel Hampton- 1985
The Police "Ghost In The Machine" World Tour- 1982
The Police "Ghost In The Machine" World Tour- 1981
James Cleveland- 1980
Sugar Hill Gang- 1980
Harold Melvin and the Blue Notes- 1980
Quazar- 1978
Parliament-Funkadelic- 1978 Flashlight Tour
Parliament-Funkadelic- 1977 Earth Tour
Patrice Rushen- 1977
Richard Pryor Show on WNBC- 1977